Light Notes
Hello from the Lynn Light. I'm happy to see that my last column was useful. I have sent in several patron requests for books that are not yet in the LAPL system. (Remember, it takes a while to receive them.) Also, the Staff and I are starting right now to purchase books to fill requests by a number of recent donors. Thank you, all, for the opportunity to expand Platt Branch's collection with selections our patrons really want.
Computer System Update
Sometime after the middle of August, Platt Branch will get the new LAPL reservation system for the public computers. With this system, patrons input their library card numbers to use the computers. This will eliminate the occasional confusion experienced with current computer use logs, facilitate equal access to this limited resource, and make it possible for patrons to sign up one day in advance. However—as currently programmed—the system will limit the amount of time a patron may use the computer to 2 hours per day, no matter how many computers are in use in a given branch on any given day. It also will make it impossible for patrons to go to another branch to receive more time.
We'll just have to see how this change works for Platt patrons in practice. Please don't be shy about telling me if it diminishes (or improves) the library's value to you. Applying current technology to patrons' needs is a work in progress, and bugs in computerized systems can be programmed out more easily than machines can be retooled—if the problem is known.
Security Update
So far, the Staff has been very lucky to have the security cameras. When I point them out to unruly youngsters, they seem to be aware that they are being watched and become much more civil. The restrooms still have some trash thrown around, but there haven't been any more fires in there. This has relieved the Staff of the big chore of handing out keys and eliminated the inconvenience to patrons as well. Parking lot and rotunda incidents remained down after security guard presence was reduced. In this case, a technological upgrade seems to have had the desired effect with no unintended consequences.
Thanks for the New Flag
I certainly appreciate Friends Support Member Sue Strickland's obtaining a new American flag for Platt Branch. As noted elsewhere in this newsletter, our old one was too worn to fly, and we'd been waiting for 6 months for a replacement through normal channels. This is the kind of extra-library support a branch Senior Librarian constantly needs and the Friends are so good at supplying.
A Welcome Break
The Friends also excel in gracious hospitality. Platt's librarians, circulation clerks, messenger clerks, and I truly enjoyed attending the Board's induction and awards supper in July. Sharon and Shel Schuster are wonderful hosts. Ellie Haney outdid herself with a delicious repast. It was delightful! The Staff's best wishes go to the new Board, which I'm sure will be as dedicated and efficacious as the last. With new President Frona DeCovnick's boundless energy at the helm, we're all looking forward to an exciting year—and especially to the Friends's gala celebration of Platt's 10th birthday next April.
Lynn Light, Senior Librarian
Young Adult Programs
The Teen Summer Reading program, "Reel Books and Movies," has had almost 200 young adults sign up: a very good response for a pilot program. Each participant received an introductory packet that included a movie related folder and reading log, blank book review forms, and a withdrawn book of their choosing. Continuing participation made readers eligible for prizes, which were generously underwritten by the Friends.
Reading Program Tie-ins
To further whet our teen patrons' appetite for library activities, programs with movie themes have been available every few weeks.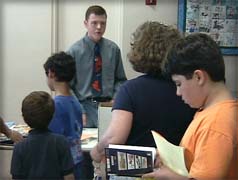 Comics and the Movies, presented by Mason Rabinowitz of Golden Apple Comics, traced the evolution of the comics superhero from its origins through major motion picture spin-offs. Those attending received comics giveaways and all the latest news on film and superhero tie-ins.
In Create Your Own Animated Characters, Gentatsu Sakakibara showed budding artists a unique technique for creating their own superheroes.
At far right, Chase Ethan Grossman emulates the masters.
A very exciting Sword and Swordplay event drew the biggest YA crowd of the summer (standing room only). Presented by working stuntmen Rand MacPherson and Michael John, it featured a thrilling choreographed sword fight as well as the history of swords and a quick sword-fighting lesson to a lucky few volunteers.
Reel Books and Movies will run through the summer, highlighted by showings of major motion pictures and a culminating movie/pizza/popcorn/prize-raffle party on August 17th. Information on the films to be shown is available at the library.
Jack Zafran, Young Adult Librarian
Children's Programs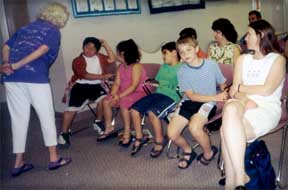 In May, Ethel Margolin (at left) and Stephanie Parks brought a children's program about responsible pet guardianship to Platt Branch. The children first watched an informative video about caring for pets. The second part of the program was interactive: Ethel and Stephanie used discussion, role-playing, and puppets very effectively to engage the children's participation. After the program, those attending received free handouts, courtesy of Actors and Others for Animals, an organization dedicated to the humane treatment of our furry companions.
An outstanding example of Platt's long-time supporters, Ethel Margolin has been a "Grandparents and Books" volunteer since the library opened. She has also been active in Friends of the Platt Library projects from the start, serving on the Friends Board, working in the Bookstore, and managing the Entertainment Books fundraising.
Vicki Magaw, Children's Librarian
Summer Programs
This year's Summer Reading theme—"Reel Books to Movies"—lent itself to a series of colorful kids' programs. In June, author Anne Ingram showed the children how to create a book (this one, of course, about Hollywood), and Master Magician Tony Daniels wowed them with his movie-themed tricks and comedy act.
In July, Jim Peace performed a one-person muppet-style puppet show entitled Little Red Riding Hood Goes to Hollywood, which drew a standing-room-only crowd of 110—our largest by far.
Also in July, Apache Native-American Bryan Bright Cloud displayed authentic native dress (by wearing his own) and talked about Apache artifacts, traditions, and life in the West.
Wrapping up our summer program in August, the Reptile Family featured live critters and crawlers and creepers, which kids love.
All these free programs were sponsored through grants and the Library Foundation of Los Angeles.
Vicki Magaw, Children's Librarian
Focus on Fossils & Family Trees
Our May – June display featured a fascinating array of fossils collected in the local mountains. Many thanks to Maxine Dearborn and the Del Air Rockhounds for bringing Platt patrons a glimpse of what lurks in them thar hills.
At the end of June, Marilyn Watson, President of the San Fernando Valley Genealogical Society, brought in a graphic representation of the processes dedicated ancestor-hunters use to trace their family trees.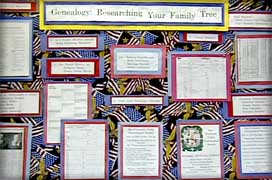 The Society is a Granada Hills-based group that holds regular monthly meetings with presentations on related subjects. Many thanks, Marilyn, for a display dear to many patron's hearts.
If you have a collection or craft work you would like to share, please contact Lynn Light, Senior Librarian, at (818) 340-9386.

The Friends of the Platt Library Newsletter is produced and maintained by Hearn/Perrell Art Associates. Editor: Therese Hearn
Artwork, photos and information are copyrighted by their respective Authors, the Friends of the Platt Library, and/or Hearn/Perrell Art Associates and may not be reprinted without permission.
Problems? Comments? Suggestions? Please tell the Webmaster.