Enjoying good company are, from left to right, TOP: Clerk Typist Daisy Chen, Sharon & Shel Schuster, Eddie Cornche & Messenger Clerk Patricia Cornche; MIDDLE: Ethel Margolin, Millie Berger, Lillian Silver & Clerk Typist Bruce Silver, Ed Berger, Clerk Typist Patty O'Brian; BOTTOM: Jack & Bernice O'Connell, Ellie & Terry Haney, Adult Librarian Sherry Brent, Senior Librarian Lynn Light.
Partial-Potluck Pleases Everyone
Our 2004-2005 season brings a number of new faces to the Friends of the Platt Library Board. It may also begin a new tradition.
This past July, the Board sponsored an informal supper to honor outgoing Board members, introduce incoming Board members, and generally promote communication between the Friends and their library. Attended by close to fifty Board and Staff members (with their partners), the event certainly accomplished its goals.
A Really Enjoyable Party
Held at the home of Shel and Sharon Schuster, our Bookstore Manager and Founding Past President, the evening was filled with easy camaraderie. Perfect weather for a garden party complimented a mouth-watering assortment of appetizers and desserts, supplied by Friends members. Their efforts, the lovely setting, and our super-gracious hosts all contributed to the relaxed, convivial atmosphere in which communication thrives.
A Long-standing Tradition
TOP LEFT: Christina Cornche (rear left), Lyall Thompson, and Stan DeCovnick; TOP RIGHT: Roberta Mehegan accepts her "gift" from Millie Berger; BOTTOM: Surrounded by, from left, Therese Hearn, Adult Librarian Sherry Brent, Kathy Cromar, Sherm Ostrom, Charlene Montante, Eileen O'Neill, Lyall, Christina, Stan, Joan Wagner, and Frona DeCovnick, Terry Haney unwraps his "gift."
As part of the festivities, books were presented to three members in honor of their service on the Board. Roberta Mehegan was given Travel Snapshots, Australia, and Lyall Thompson received Cakes, Cookies, Pies and Tarts. Lyall and Roberta are leaving the Board, but we hope to see their friendly faces at future events. Golf Resorts of the World was chosen for outgoing President Terry Haney, who will remain on the Board as Past President. Traditionally, the recipients do not keep these gifts. The selected volumes are placed in the Platt Branch collection. Prior to circulation, in the front of each book, the staff inserts a page recognizing the honored Board member's service. Designed and hand-inscribed by volunteer and calligrapher Mary Shepherd, these beautiful inserts provide an on-going token of appreciation.
With More to Come
"Fun" gatherings aren't reserved for Board members only. Over the last 9½ years, individual Board members have feted Bookstore and in-house volunteers. Friends have enjoyed wonderful bus excursions and toured the Metro Rail. Most recently, Ellie Haney, who coordinated this event, hosted a Valentine luncheon for her hard-working hospitality crew. And these are just a few of the things Friends do in addition to selling used books, processing books, shelving books, maintaining the grounds, working together on the Children's Holiday Gift Boutique, wrapping holiday gifts, presenting great programs, and celebrating Platt's birthdays with gala, day-long "Extravaganzas" like the one coming up for Platt Branch's 10th birthday.
If you haven't already done so, please come join us for the rewarding work and the convivial play.
Ellie Haney, Hospitality Chair & Millie Berger, Membership VP
VOTERS: Plan to Nail Down Slippery Propositions in October!
On Monday, October 18 at 7 pm, the Friends will present a comprehensive review of the issues that will appear on your November 2004 Ballot.
Have you sorted out your thoughts about stem cell research? Proposition 71 would establish a California Institute for Regenerative Medicine to regulate it.
What are your thoughts regarding taxation on and expansion of Tribal Gaming? Propositions 68 and 70 present further direction on this issue.
On Workers Comp? Proposition 72 seeks to repeal the bond that imposes a $7 billion tax on California employers and employees to create a government-run system. Do you think it should be repealed? Why or why not?
Fortunately, Ellen Pangarliotas, Chair of the Los Angeles League of Women Voters Speakers Bureau, will be here to provide an incisive analysis of these and other knotty measures following our General Meeting.
Come and learn more about the issues that all voters face in this next election. Mark your calendar for Monday, October 18 from 6:30–8:00 pm.
Joan Vos, Program Chair
Platt's Flag Flies Again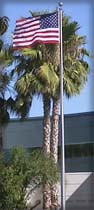 As a prospective member of the Friends board, I was invited to attend several meetings before assuming my position. At the June meeting, Senior Librarian Lynn Light told us that she had received an administrative request to lower Platt's flag in honor of President Reagan. She said she'd replied that it couldn't be done because we didn't have a flag. A public building without a flag? Unthinkable. But Lynn explained that our original flag had to be retired, and although she had ordered a replacement in January, it hadn't been delivered. I was outraged.
The next day I called my U. S. Representative, Henry Waxman. On July 8, 2004, at his request, a new flag was flown over the US Capitol for the Friends of Platt Library. Within 5 weeks (total time), this flag arrived, and I was thrilled to present it, complete with a certificate of "authenticity," to the Friends board and Platt's Senior Librarian. It is now flying proudly! Enjoy it!
Is this a lesson in fighting the slowness of "downtown?" Not exactly. But it does show that, once a problem has been identified, the Friends can move quickly to meet our library's needs.
Sue Strickland, Supporting Member
Friends Board Officers & Chairpersons, 2004–2005
Elected Members

President

Frona DeCovnick

1st Vice President (Fundraising)

Mary Ann Ostrom

2nd Vice President (Membership)

Millie Berger

Recording Secretary

Kathy Cromar

Corresponding Secretary

Eileen O'Neill

Treasurer

Annie Haas

Appointed Members

Past President

Terry Haney

Newsletter Editor

Therese Hearn

Hospitality

Paula Russo

Programs/Special Events

Joan Vos

Publicity

Charlene Montante

Mailing

Joan Wagner

Civic Affairs

Stanley DeCovnick

Bookstore Manager/Book Sales

Shel Schuster

Volunteer Coordinator

Elaine Corman

Volunteer Co-Chair

Harriet Strauss

Historian

Ellie Haney

Webmaster

David Perrell

General Support Member

Carol Roseman

General Support Member

Sue Strickland

Senior Librarian

Lynn Light
Watch for the Entertainment 2005 Books!
Coming to the Platt Library Bookstore in September.
For more information call Ethel Margolin (818) 340-2000.

The Friends of the Platt Library Newsletter is produced and maintained by Hearn/Perrell Art Associates. Editor: Therese Hearn
Artwork, photos and information are copyrighted by their respective Authors, the Friends of the Platt Library, and/or Hearn/Perrell Art Associates and may not be reprinted without permission.
Problems? Comments? Suggestions? Please tell the Webmaster.